The Environment
Walwa Wastewater Project promotes improved services for residents
A dedicated team at Towong Shire Council has worked closely with residents of the Walwa Community to deliver improved sewerage services for the town.
Following feedback from Walwa residents, Council is also investigating alternative treatment processes to the wetland solution initially identified with a final decision to be made in the near future.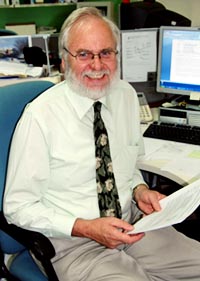 Environmental Engineer Charles Knight.
The scheme currently involves the collection of septic tank effluent from properties in the township of Walwa with discharge to a wetlands treatment area just north of the sportsground. The treated water will then be utilised to irrigate the football oval via a subsurface system.
This innovative and environmentally sustainable project attracted a $250,000 grant from Regional Development Victoria in 2007 with the view that the project will be completed by September 2009. Council has committed a further $75,000 toward the project with a remaining $195,000 recoverable from the benefiting property owners.
The works tender was awarded to JHL Civil Pty Ltd / GROMENG Pty Ltd who are responsible for the following key tasks:
The design of the wastewater collection and treatment system and for obtaining the necessary planning and works approvals.
The construction and operation (for the 12 month defects liability period) of the wastewater collection and disposal system.
In an effort to further support benefiting property owners, Council has submitted a Small Towns Water Quality Fund Application for the "Walwa Community Innovative Wastewater Project" which, if successful, will substantially reduce the benefiting property owner contributions.
Contractors JHL Civil Pty Ltd have completed their on-site surveys and commenced the design process. Once complete, the design will be placed on public exhibition for comment and approval.
Partnering communities rewards sustainable environmental outcomes and improved services for residents.
This article has been copied from http://www.rafikiconcepts.com.au/newsletter/towong/200812/