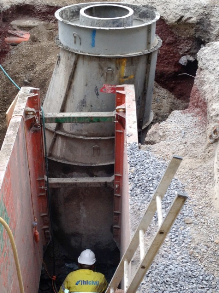 Client: Bovis Lend Lease / City West Water
Location: Victorian Harbour
Start: 2011
Completion: 2012
Project Description
This project included the supply and installation of all stormwater, water, recycled water and sewer works including manholes, drainage pits, connections and live break ins.
Our construction team experienced challenging ground conditions with coode island silt, ground water and deep excavations. The works were conducted in the tight city streets of Docklands and a heavily congested site with building construction personnel and machinery.
Targets / Performance Outcomes
Constructing the works with minimal disturbance to the construction of the Bovis Lend Lease building site. All works were conducted with a high level of safety to achieve no LTI's or disturbance to the public or stakeholders.
Project Images