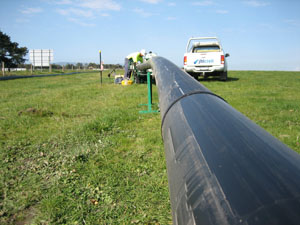 Client: Gippsland Water Factory Alliance
Location: Maryvale, Victoria
Start: 2007
Completion: 2007
Contract type/Services: Pipelines
Project Description
Installation of 2.4km DN225 PE Pressure pipe from Traralgon West pump station to a connection point into an existing main on Old Melbourne Road. Works included working alongside Traralgon airfield, works in environmental sensitive grasslands and working alongside a volatile existing 150mm AC sewer main.
Targets / Performance Outcomes
In house environmental assessment called for the majority of open cut works to be changed to horizontal boring to minimise impact on environment and reduce the risk of damaging existing AC sewer main. Works were completed to the satisfaction of LaTrobe City Council and commendations by DSE.
Project Images