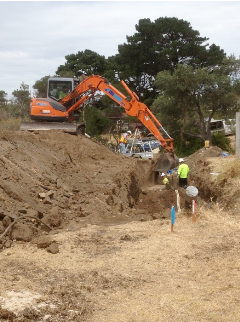 Client: Utility Services (Thiess / South East Water)
Location: Seaford
Start: 2013
Completion: 2013
Project Description
The emergency works involved the supply and installation of approximately 130m of 180mm PE pipe in the reserve behind Seaford residents (Nepean Hwy) and Kananook Creek. JHL's works consisted of PE welding, open cut installation, air valve installation, live pump station connection, all quality testing and reinstatement.
Targets / Performance Outcomes
The reserve contained highly sensitive flora and fauna and ground conditions with Acid Sulphate Soil (ASS) that was required to be treated on site as the works progressed. A safe installation of all works with no LTI's or disturbance to the public or stakeholders was also a must for a successful completion.
Project Images