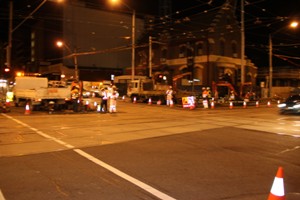 Client: FKP Projects / Wallbridge & Gilbert / Yarra Valley Water
Location: Hawthorn, Victoria
Start: 2010
Completion: 2011
Project Description
Lift and relay of water main upgrade and associated works for the newly develop Aerial Apartments on Riversdale Road. Constraints included major traffic, major tramway interesection, Yarra Trams depot, unidentified services, drilling under tramways, reinstatement of all work area disturbed by construction and disposal of surplus spoil daily, limited laydown area. Pole stays were required for the duration of the project.
Targets / Performance Outcomes
Safe installation of pipe line with no LTI's and a tested network to hand over to Yarra Valley Water for public usage.
Successful migration of Yarra Trams assets.
Project Images