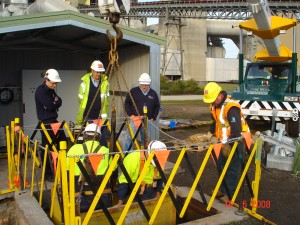 Client: HRL Technology
Location: Traralgon, Victoria
Start: 2008
Completion: 2008
Contract type/Services: Stormwater Harvesting Systems
Project Description
Provision of civil and mechanical services for Storm Water Drainage Recovery project including construction of 1.5km PE pipeline and pit redesign works. Recovery of wastewater from drain pit and pumping the water to the cooling towers.
Targets / Performance Outcomes
Working in and around a large number of services
Project completed to the satisfaction of all stakeholders
Zero LTIs.
Saving approx 45 megalitres per 4 weeks
Project Images