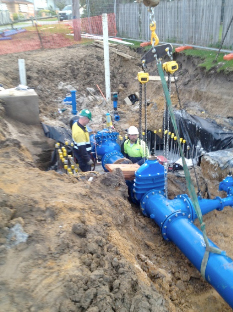 Client: Utility Services (Thiess / South East Water)
Location: Kidds Road Doveton
Start: 2012
Completion: 2012
Project Description
The project was the supply and installation of pipe, fittings and concrete pit for the installation of the Pressure Reduction Valve (PRV) and flow meter. Deep excavations were required for live water main tapings of South East Water's and Melbourne Water's 600mm and 450mm MSCL pipelines.
Targets / Performance Outcomes
A safe installation of all works with no LTI's or disturbance to the public or stakeholders. Successful connections to the live water assets and reinstatement of the Casey Council reserve.
Project Images