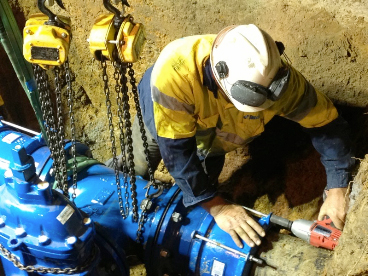 Client: Utility Services (Thiess / South East Water)
Location: Frawley Road, Hallam
Start: 2012
Completion: 2013
Project Description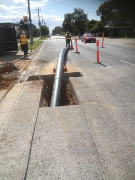 The project was the supply and installation of pipe, fittings and concrete pit for the installation of the Pressure Reduction Valve (PRV) and flow meter. The tapping works required careful planning and scheduling as the water main shut downs had to be conducted as night works with change over crews to achieve successful connections into the 300mm AC water mains. To further avoid disturbance to the public, approximately 100m of 280mm PE pipe had to be Horizontally Directionally Drilled (HDD) under Frawley Road. The concrete pit was installed insitu with 16mm steel reo bar used to ensure the structure would be an asset of South East Water's for many years to come.
Targets / Performance Outcomes
A safe installation of all works with no LTI's or disturbance to the public or stakeholders. Successful connections to the live water assets during night works shut down time and reinstate road and footpath assets.
Project Images