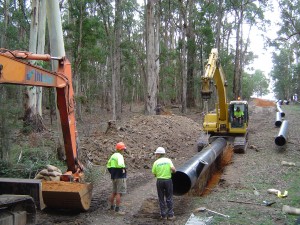 Client: Barwon Water
Location: Colac, Victoria
Start: 2007
Completion: 2007
Contract type/Services: Pipelines
Project Description
Early in 2007, JHL Civil worked closely with Barwon Water to execute an approved strategy for the progressive replacement of the Colac Pipeline between the reservoirs and the Colac Water Treatment Plant, to increase the security of supply and capacity of the pipeline.
This project was for the construction of 1.8 Km of 660 mm diameter MSCL pipeline.
Barwon Water procured the pipes and fittings necessary for the 1.8 Km pipeline and had them delivered to a lay down area in Shorts Road, Barongarook. JHL Civil had the responsibility of constructing the pipeline through the undulating territory.
Targets / Performance Outcomes
A key part of the project was the necessity of the JHL Civil team to follow an accurate and strict works program to ensure the private property owners were inconvenienced by the construction works as minimal as possible. Dealing with private landowners in any situation is a difficult task. The project was made even more difficult by working within the close vicinity of the extremely fragile existing AC water main. Project was completed to the satisfaction of all stakeholders.
Zero LTIs
Project Images